BANK OF AMERICA PERFORMING ARTS CENTER - THOUSAND OAKS
THOUSAND OAKS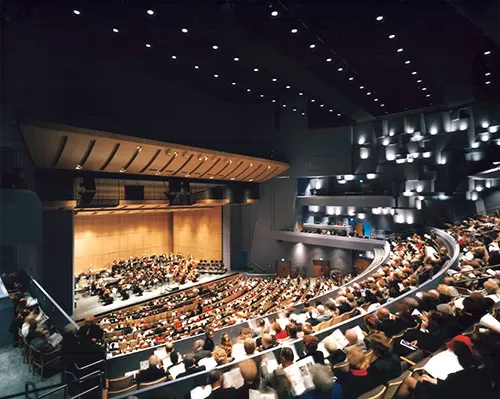 The Bank of America Performing Arts Center at the Thousand Oaks Civic Arts Plaza is one of the largest performing arts centers between Los Angeles and San Francisco, and is funded through a unique public/private partnership between the City of Thousand Oaks and the Alliance for the Arts.

The Bank of America Performing Arts Center consists of the 1,800-seat Fred Kavli Theatre for the Performing Arts and the 394-seat Janet and Ray Scherr Forum Theatre, which combine outstanding arts and entertainment with state-of-the-art technology and acoustics. Over 300,000 patrons and 50,000 children attend more than 400 performances annually.

The Center's stellar headliners run the spectrum from the contemporary to the classic, in addition to touring Broadway musicals, popular entertainers, award-winning children's programs, international ballet, folk and modern dance companies, classical symphonic performances, chamber music, choral ensembles, civic light opera, comedy, distinguished speakers, films, magic, jazz, big band orchestras, and live theatre and community programs. To further enhance the theatre experience, the Fred Kavli Theatre Lobby doubles as a fine art gallery for exhibitions by both local and internationally acclaimed artists.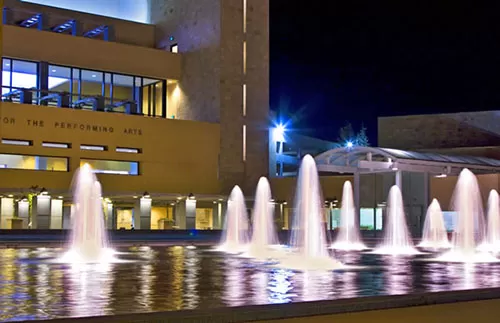 The Bank of America Performing Arts Center is the realization of a 20-year dream by Thousand Oaks citizens to provide a facility to house quality cultural activities. To date, over three million people have patronized the Bank of America Performing Arts Center since its successful October 1994 grand opening. Designed by nationally renowned architect Antoine Predock, the 3-acre City complex juxtaposes serene meadowland and park-like vistas with a bustling entertainment center. Predock's vision, which he describes as confronting "the fantastic duality of Southern California—the man-made realm and the landscape," has resulted in an intricately assembled structure of modern proportions nestled amongst towering oak trees, natural grasses and wandering stream beds. The City of Thousand Oaks is located 12 miles from the Pacific Ocean and 45 minutes from downtown Los Angeles. The combination of ideal location, temperate climate and country setting contribute to a pleasant stay while visiting the Bank of America Performing Arts Center.